ing that you can resolve this.
So this is a difficult issue for me, and I am struggling with your respone. That isn't your fault or problem. Please bear with me as the following is a little bit blunt. I apologize if it is offensive. I do think that this is an area that we can agree with, but I have some misconceptions to get over

This has come up in my past. I was doing a Bible study at my church and I was contrasting faith and works, for it seems that sometimes salvation seems to be by works, and in other cases by faith. My pastor pointed to John 6:29. It is hard for me to understand how you can discount the clear meaning of John 6:29, that faith is itself a work, and without that work faith is dead. I am also curious as to why you say or it is "not valid" rather than "dead"(KJV) or "useless."(NIV) I just wondered if there is a specific reason for this?
I don't consider anything you have said here offensive.
I guess I didn't explain that well(which isn't uncommon), so I'll try again. Jesus saying that in John 6:29 is going with the total concept of faith, and how that naturally leads to good works. He's not saying it is in itself a work, but that by getting people to have true faith in God they will produce the works of God. Kind of like how he summarized the Ten Commandments as love God with all your heart, all your mind, and all your soul, and to love your neighbor as yourself.
As for the "not valid", that particular line was only for good works that are done without faith. Faith without works is indeed dead. However, not valid is another way to describe such a "faith". Null and void would be another good option.
I was wondering what you think of this: Romans 2:14.
So having put all of that out, I think the problem is that I am not understanding you correctly. So let me see if I am able: So, what you are saying is that Faith alone is necessary for salvation, but if good works do not follow then the individual never had any faith to begin with. Is that correct? Faith is justified by works, not because works justify faith, but because they demonstrate that faith is real and bears good fruit. An application of this is Jesus' statements on discerning false prophets in Matthew 7:16. Am I on the right track here?
Yes, that is what I'm getting at. The thief on the cross is a good example of this. He never got the chance to do any good works since he was being crucified when he accepted Jesus. Jesus told him that he would be in paradise that day. Not really any time for good works in his situation.
Good to know. :) Sometimes I used to feel as if most individuals here were in agreement with the honor shame culture. That is probably a reflection of my own biases, so it is good to see multiple perspectives on Tweb.
Most Christians on this site do in fact seem to agree with the Honor Shame culture paradigm. The level of explanatory power they grant to the paradigm is a little concerning IMO.
Yes, I also struggled a lot growing up with fears of nuclear war. I actually asked a classmate why he didn't seem bothered about this issue and he just stated that he just never let himself be bothered by it. Maybe it is just easier for some people rather than others. But I do want to tell you that being sensitive and empathetic is a gift. We just need to learn how to use it.
By the time I knew more about world events nuclear war wasn't really seen as a viable option by most countries, so I didn't worry about that issue specifically. Some people just never seem to worry about anything, even when they should. Others, like us, are much more prone to worrying.
Having higher empathy than average is both a gift and a curse. It makes it easier to help those who really need it, but it can also be taken advantage of by manipulative people.
I don't want to take advantage of your uncertainty. I do want to help you to see the best arguments that universalism can offer, and then I would ask you to pray about it and come to your own conclusion. And you are spot on in stating that mental and emotional suffering can be as bad or worse than physical suffering.
You are doing what you believe is best. I appreciate that even if I don't agree with your beliefs.
I do also struggle with Biblical inerrancy, particularly because of the Gospel of the Holy Twelve.

Thank you for being willing to check it out. Let me know what you think when you do. There are multiple cases where memories were confirmed with no possibility of foreknowledge or fraud. From what I have read, even skeptic Carl Sagan felt that children who remembered past lives were a subject in parapsychology worth studying.
Looks like there is a lot of stuff to go through, so it might take a while.
Understood. Thank you for letting me recommend it to you and for being willing to look into it. I apologize if I have been to pushy on the subject. Thank you for your kindness and patience.
I always appreciate it when someone suggests something I hadn't heard of that might be able to help with my chronic pain. So thanks for letting me know about it.
On what bases do you believe that claim? What constitutes enough information to make a decision? One thing I have learned from Young Earth Creationism is that people can look at the same evidence, such as a fossil, and come to different conclusions about its dating and what theory is bolstered by it, based on the axioms/presuppositions they accept. And not everyone has control over what they have been taught to believe is true, including their axioms/presuppositions. This is an objective fact. Not everyone gets the same chance, that is a fact. Free will is not absolute, and that is a fact.
I believe it because I trust God to do what is right. I don't believe that everyone will get the same exact information, as you rightly point out that people can easily interpret the exact same evidence in opposite ways. I'm a YEC myself, so I definitely understand how axioms and presuppositions can effect what people believe the evidence is pointing to. My belief is that God will give everyone what is necessary for them to make an informed decision. Who gets more or less information is God's prerogative, and not mine.
I would recommend two videos by the Theosophical Society by Dr. Eben Alexander: A Neurosurgeon's Journey through the Afterlife and Synthesis of Science and Spirituality.

That is one of the reasons that enlightened beings were sent to everyone, to all sentient life, in order to help people remember and ultimately overcome the cycle of birth and death: to achieve nirvana. One way to do that is to help people remember their past lives.

Here is a quote that may help you understand the purpose of rebirth. It is from the Gospel of the Holy Twelve, Lection 37:
Yes, aionios can mean "age lasting", but the context of the verse shows equal and opposite results depending on whether one accepts God or not. If they do not they go to "aionios" punishment, and if they do "aionios" salvation. Given the grammar of those definition of "aionios" would need to be the same.
I love Kingdom Hearts, but I haven't had a game console in years, so I do not fully understand the reference.

Thank you for the paper you cited. I will read over it and perhaps ask you and others about it.

But they are not in the same context. One part of the verse is geared towards unbelievers and one to believers.

Let me quote again from the same book, God's Plan for All:



Your's Truly,

-Heero
The Gospel of the Holy Twelve appears to be a forgery, and was called out as such during the
authors lifetime
. It was apparently written almost entirely to promote vegetarianism, but if you want to do that there are better options within the Biblical canon to make that argument such as man and animal being vegetarian in the beginning according to Genesis. Or when you have Daniel, Meshach, Shadrach, and Abednego eat only vegetables, and being healthier than their counterparts when they were being taught to serve Nebuchadnezzar.
The passage your reference in support of reincarnation is definitely very, very symbolic in doing so if that is what it is trying to teach.
As for the other work he kind of undermines his own argument. The vast majority of the uses of "aionios" in the Bible mean "everlasting", so why is it suddenly different in this passage? He doesn't really say why it should suddenly shift meanings within those verses.
It's a bit of a spoiler for Kingdom Hearts Birth By Sleep so watch at your own risk, but here is the cut scene that shows what happened.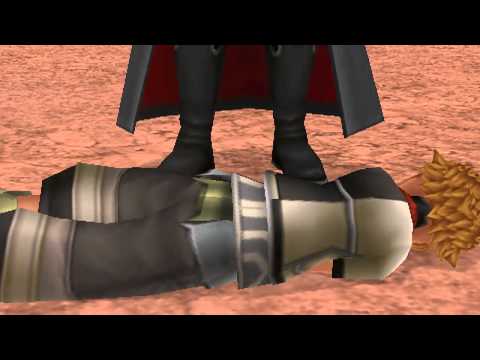 The Kingdom Hearts series is now on PC on Epic Store, and will likely be in Steam later this year. I'm waiting to see if they bring them to Steam like other Epic exclusives since I own these games on other platforms. It's my favorite game series of all time, so I'll have to grab them for my PC at some point.
If you ever do get a chance to play the ones you haven't, I suggest playing them in release order instead of chronological order. They build on each other in a way that makes more sense that way.