talked
about the problem of inequality, and called on congress to raise the minimum wage. But my dislike goes all the way back to around the late 1970s / early 1980s: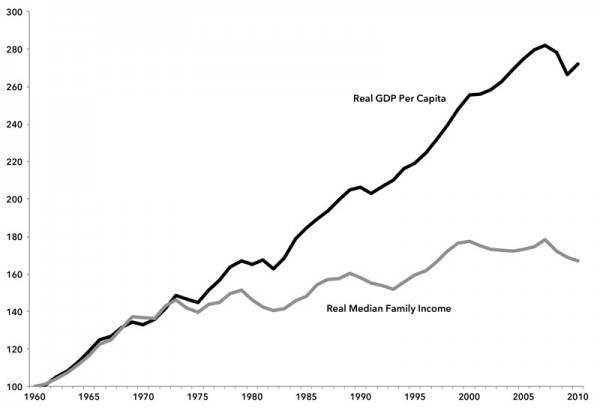 (from
here
. Both lines are adjusted for inflation.)
GDP has steadily climbed since WWII at a pretty linear rate of about 3% per year, as a result of continuing technological advancement and a gradually increasing amount of women entering the workforce. Until about 1980, the amount of income the median family was getting grew with GDP, reflecting a fair and proportional distribution of profits to the workers who were creating them.
But since 1980 economy has continued to increase the same way it always was, but the amount of money going to the median family has basically flat-lined (other versions of the above graph actually show it decreasing slightly rather than increasing slightly as the above graph does, I think it depends exactly what is data-source is used in the plot and how inflation is accounted for). Basically
ALL
of the profits from increased productivity since 1980 have gone to the wealthy few. The average worker has seen approximately zero benefit in terms of wage rises from their ever-increasing productivity.
Due to the fact that the historical minimum wage was not pegged to inflation, it is now common to hear stories of people who work full time but are still below the poverty line because the amounts they are being paid are simply too small to live on.
So yes, I'm not pleased about Obama's relatively ineffectual actions to address this, but the problem significantly predates him (I largely blame Reagan), and will require a much more serious solution along the basic lines of: Raising the minimum wage and tying it to inflation, strengthening the powers of unions to negotiate fair wages with employers, lowering taxes on the poor and middle-class and raising taxes on the rich, strengthening social security. When you live in the wealthiest and most productive country in the history of the world there's not really any excuse for having people who work full time yet don't earn enough to feed their families and pay their rent.
That's basically why I consider Bernie Sanders the only credible candidate in the current US election cycle. He's actually serious about addressing this. Hillary pretends to care in order to win votes, but everyone who follows politics knows she's sufficiently corrupt that any action she does take is likely to be half-hearted and carefully crafted concessions to try to appease Wall St and big business as much as possible. Whereas the Republicans are so corrupt they don't even try and pretend, they outright admit they'd love to cut taxes and cut welfare and push the accelerator peddle of inequality down as hard as possible, and they just try to pretend to their voters that that's a good thing, and their base is so stupid that they just nod and say "well if you tell me that taking more money from me and giving it to rich people will be best, then I guess it will be, so I'm going to vote for you!"