​
Not sure if any of you have heard about this but last September, while "Dr." Jill was delivering a speech before some Middle School about the pandemic, old Joe just turned around and beat a hasty retreat. Very little was said about it at the time because the MSM was still dutifully protecting him as much as they could.
But then someone edited the clip by adding the sound of an ice cream truck moments before old Joe turns around and scoots off (as much as a nearly 80 year old can be expected to scoot off).
Basically, in real life, Biden mysteriously walked away from his wife's speech and in this video of it an ice cream truck driving by is used to "explain" his actions.
While that got a fair number of views it got far more views after Reuters fact checked it nearly a year later.
Yup. They fact checked a clearly edited video of old Joe getting distracted by an ice cream truck.
The left is back to fact checking obvious spoofs again.
You would think they would have learned after Snopes kept "fact checking" the Babylon Bee
[1]
and were rightfully mocked for doing so.
​
Reuters can now proudly say that they got a fact check correct. The obviously altered video had indeed been "digitally edited."
Can't get anything by Reuters.
And while Reuters getting ridiculed for their digging up a video like that to "fact check" what is getting overlooked is how the only time Reuters ever seems interested in doing fact-checks regarding old Joe is when they are rushing to his defense.
Media Research Center went back through Reuters fact checks and noticed the trend of ones defending Biden as compared to few if any checking statements by him or his team. For the last month was apparently typical
--
July 29:
The Atlantic did not not publish a headline on 'the quiet courage' of Biden's economy
--
July 28:
Biden did not sign a "Drag Queen Initiative" that would outlaw "publicly criticizing pedophiles."
--
July 25:
Image purporting to show Trump statement mocking Biden's COVID-19 diagnosis is fabricated
--
July 14:
Derogatory "F
​ Joe Biden" chanting digitally added to video of Biden at news conference.
--
July 11:
The Atlantic never published a piece titled "Leave Hunter Alone."
--
July 11:
Sylvester Stallone was not photographed wearing an "FU 46" T-shirt.
--
July 8:
Biden didn't put a Medal of Honor backwards on a Vietnam War veteran at the White House.
Here is the altered video which appears to have had its image scrambled, or at least I can't see it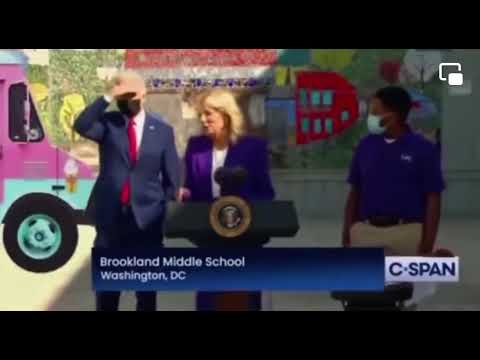 And another posted by someone else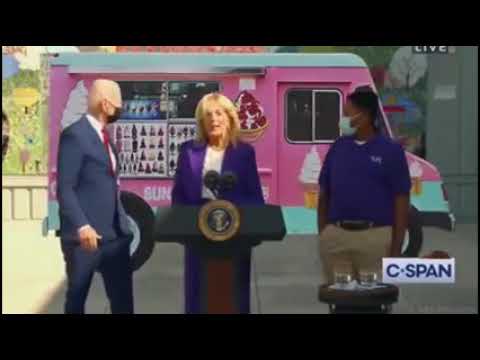 A screen capture if they don't work
​
Notice the realistic ice cream truck that warranted being fact checked
Further, the actual unedited version is considerably worse than the spoof.
Joe still shows he still can't leave his paws off of people after being told how many times that just is NOT cool. And in spite of wearing a mask, you can tell that the person pawed by the duffer was quite entertained by the duffers impromptu sudden exit.
Why I say it is worse is that folks would understand if he was hungry and went off to stop the ice cream truck (it sounded like his wife was winding down the speech anyways), compared to wondering what possibly could have got him to turn around and wander off like grandpa who everyone has to keep an eye on or he'll end up lost.
And finally, the ice cream truck wasn't the only spoof so Reuters still has some work to do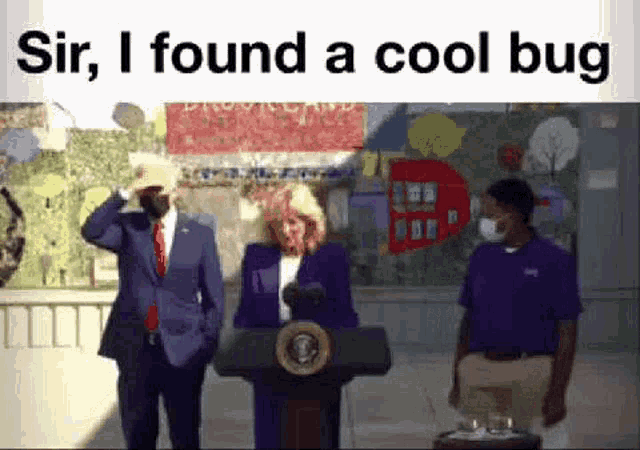 1.
IIRC, it was the WaPo that got raked over the coals for "fact-checking" Saturday Night Live for a skit. The
finally
got up the nerve to tease the Obamessiah and the WaPo acted like a pissed off Greta Thunberg: "How Dare You!"