Researchers have announced the discovery of the fossilized remains of the earliest and basalmost pterodactyloid known and which lived roughly 163 mya (at the boundary of the Middle and Late Jurassic), at least 5 million years earlier than previously known.
Pterodactyloidea are one of the two suborders of pterosaurs, an order of extinct winged reptiles that existed from the Late Triassic to the end of the Cretaceous Period (228 to 66 mya), were the earliest reptiles to evolve powered flight and were also the largest known flying creatures to have ever existed.
It was found in the mudstone of the Shishugou Formation of Xinjiang located in northwest China, 35 meters (115') below an ash bed in the well-known Junggar Basin dinosaur traps (popularly called the "dinosaur death pits").
The researchers, led by paleontologist Brian Andres of the University of South Florida's School of Geosciences, named the pterodactyloid
Kryptodrakon progenitor
. Its genus or first name comes from "Krypto" (hidden) and "drakon" (serpent), referring to the movie "Crouching Tiger, Hidden Dragon," which was filmed near where the species was discovered. Its species name means ancestral or first-born, referring to its status as the earliest known pterodactyloid.
The fossilized partial skeleton is very fragmentary though in good condition, lacking the skull and consisting of pieces from both wings, parts of the shoulder girdle and the second sacral vertebra.
The sparse remains led to it originally being tentatively identified as having come from a theropod but the researchers were able to identify it as a the first pterosaur to bear the characteristics of the Pterodactyloidea because the fragments included a signature bone in its palm, the right fourth metacarpal, that was gracile and elongated and used for walking and flying.
In early pterosaurs, the bone was very short, attaches to the "pinkie" and varied very little among individuals whereas in pterodactyloids it was considerably longer, attached to the "ring finger" and varied significantly.
"This guy is the very first pterodactyloid — he has the last features that changed before the group radiated and took over the world," noted Andres.
Pterosaur finger bones helped determine the shape of the wing, and the change in this bone may have allowed pterodactyloids' wings to be better adapted to their environment therefore leading to their dominance of the skies.
Since neither the skull or any teeth were found
Kryptodrakon's
diet cannot be definitively determined. In any case, its relatives are known to have consumed insects, fish and even the young of apex predators which indicates that
Kryptodrakon
was probably a carnivore.
Kryptodrakon
likely had a wingspan of around 54" (1.37 meters), considerably less than the creature's enormous descendants, such as
Quetzalcoatlus
and
Hatzegopteryx
, whose wingspans stretched to 10 meters (32') in length — which is as large as a small airplane.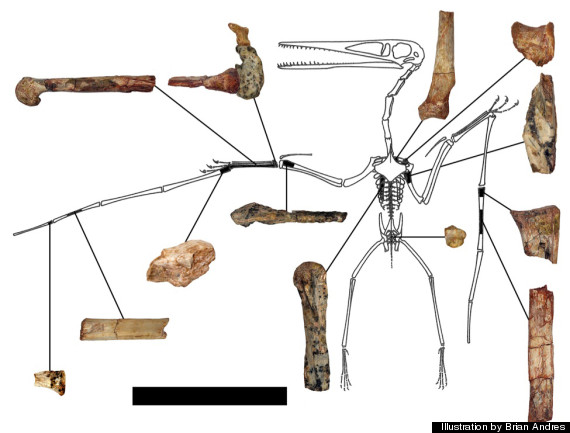 Further Reading:
The Earliest Pterodactyloid and the Origin of the Group
Abstract
Oldest pterodactyloid species discovered: Primitive flying reptile took wing 163 million years ago
Tiny Flying Reptile Ancestor to Giant Pterodactyls Found
International Research Team Names Most Primitive Species Of Flying Reptile
Meet Kryptodrakon: Oldest Known Pterodactyl Found in China
Oldest Pterodactyl Species, Kryptodrakon Progenitor, Discovered In China
'Hidden Dragon' Beast Gave Rise to Fearsome Flying Reptiles