An exceptionally well-preserved fossilized remains of a massive trapdoor spider that lived some 11 to 16mya has been found in McGraths Flat region of New South Wales in southeastern Australia. The discovery represents a new genus of spider and appears to be related to the modern Monodontium (a brushed trapdoor spider) but is five times larger. It was named
Megamonodontium mccluskyi
after Simon McClusky, who found the specimen.
McGrath Flats is a very dry area (mostly grassland) today, but back when
Megamonodontium mccluskyi
lived there it was a wet tropical forest. The fossil itself was part of a large collection of fossils called an assemblage, this is when a large number of fossils are found together.
Robert Raven, the supervising author of the study, and an arachnologist at Queensland Museum, said the find is "not only is it the largest fossilized spider to be found in Australia but it is the first fossil of the family Barychelidae that has been found worldwide."
University of Canberra Associate Professor, Michael Frese, who used stacking microphotography to scan the fossils seemed pretty enthusiastic declaring that the technique "allowed us to study minute details of the claws and setae on the spider's pedipalps, legs and the main body. Setae are hair-like structures that can have a range of functions. They can sense chemicals and vibrations, defend the spider against attackers and even make sounds."
The specimen itself represents a complete part and counterpart of an adult female spider and is the second largest fossil spider ever unearthed (the largest isn't really much bigger, dates to the Jurassic of China and is known as
Mongolarachne jurassica
).
The full paper,
A large brush-footed trapdoor spider (Mygalomorphae: Barychelidae) from the Miocene of Australia
can be accessed by clicking the hyperlink although I've included the abstract from it below
Abstract

The aridification of the Australian continent led to the diversification of mygalomorph spiders in the Miocene, but a depauperate fossil record has made it difficult to investigate evolution across this epoch. Here, we describe the first fossil barychelid spider (Araneae: Barychelidae) in the world and the second fossil mygalomorph spider from Australia. It is placed as a new genus and species (Megamonodontium mccluskyi gen. et sp. nov.). Megamonodontium resembles Monodontium Kulczyński, 1908, a genus that persists in rainforests through Singapore, Indonesia and Papua New Guinea. The new specimen is the second largest spider fossil in the world and is approximately five times larger than extant Monodontium. The fossil shows that this lineage once occupied mesic rainforest habitats in Australia but has since been replaced by other spiders.
And of course the images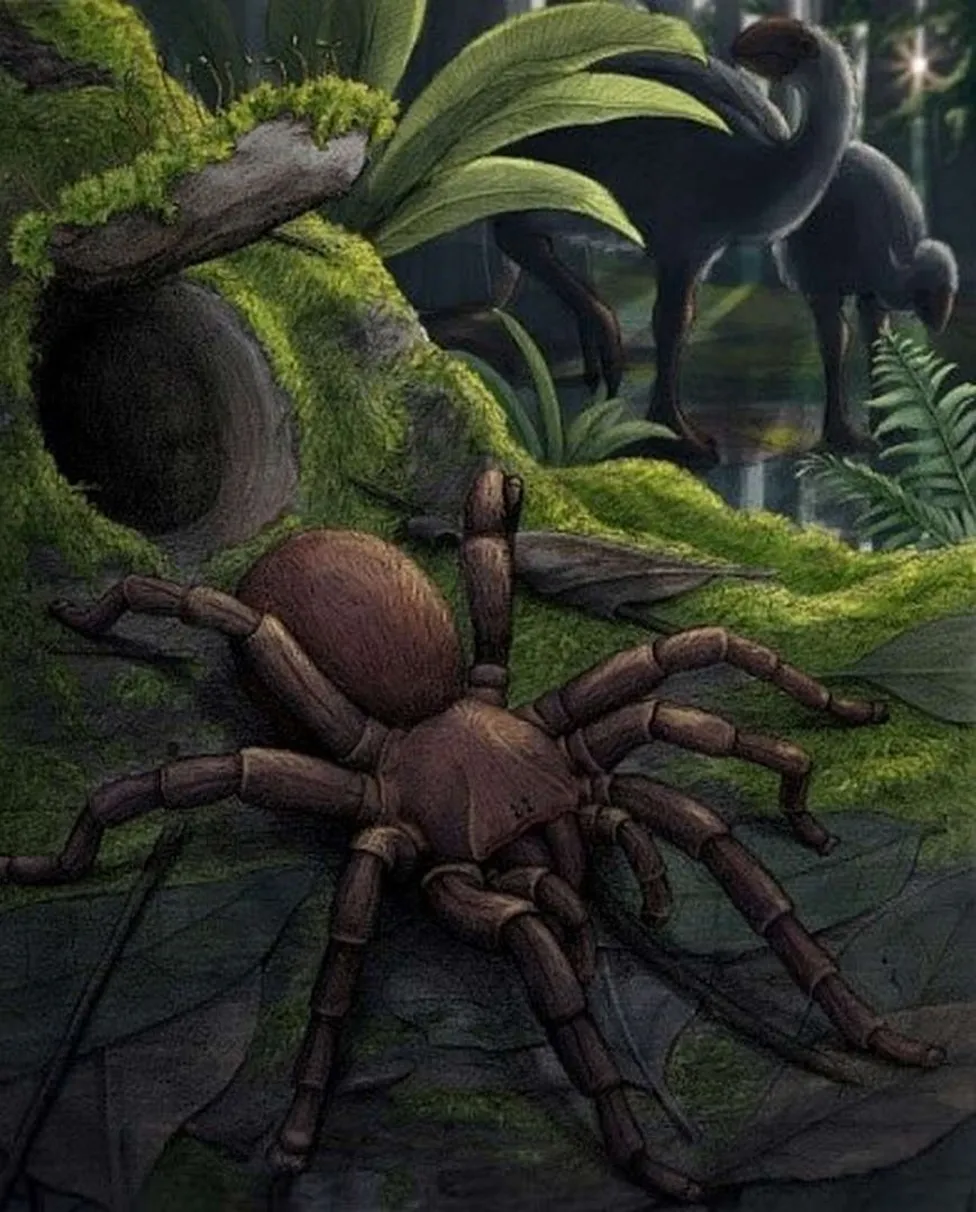 Artist's reconstruction