(I saw something and felt inspired, so I tried my hand at composing a praise report of sorts.)
You've seen and heard the headlines in recent years. Church attendance and reported religiosity are steadily declining. America's racial tensions are becoming increasingly inflamed. The nation polarizes more and more, seemingly with each passing day. And from last Wednesday night, tragedy struck a hard, devastating blow at all three points. A murderer who proudly wove the Confederate flag and wanted to start a new Civil War took the lives of nine church members of a prayer group, all because of their race. Many noted the historical significance of that particular church, a famous one among the country's African-American churches, but far fewer noted a more sobering point--that the church had to exist as African-American precisely because of centuries of discord and exclusion, and one of the few instances of a different group entering the church was motivated by a desire to kill.
In the face of such horrific evil, it would be so easy to direct a grief-stricken, fury-propelled glare at the sky, or cast a glazed stare numbly into empty space, and wonder "Where was God in the midst of all this?" It certainly wasn't the type of incident that would easily convince people that a loving, all-powerful deity is present at all times. Difficult times (to say the least) raise difficult questions that may never be adequately answered. And as Wednesday night gave way to Thursday morning, hearts were seared and shredded, wrenched from the ribcage so that every last drop of blood could be squeezed out of them, it felt. It would be so simple, so intuitive, so
logical
, even, to scamper for cover, to flee far from danger, to leave the church an empty, quiet graveyard, lamenting that death will now forever be associated with that church in Charleston. The world now knows its name, and therein lies another tragedy--the world should never have had to know its name.
Three days later, however, that church in Charleston rose from its grave on an early Sunday morning.
emanuel ame service.jpg
The pews were packed with people--black and white, young and old, rich and poor, liberal and conservative, religious and non-religious. For an amount of time that no longer matters, in part because it almost certainly felt timeless to those who were there, they set aside their many differences and joined together as one flock. As one body. They sang and wept and laughed and grieved during the service commemorating the nine people who lost their lives, and the countless others who lost friends, family members, senses of innocence. And then--amazingly--they rejoiced.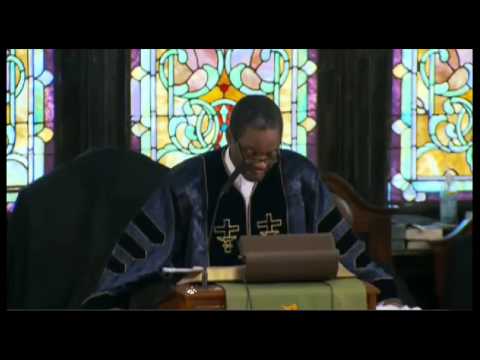 They rejoiced for a hope they had within, a hope that bullets could not penetrate, that skin color could not blur, and political divisions could not sever. The church had long been a safe haven for those who were once enslaved, and the people demonstrated that they would refuse to be enslaved again. They would not be imprisoned by the terror and hatred that had been integral to the killer's plan. They defeated that mission not with stronger guns and thicker hatred, but with a magnitude of love and courage that almost defy words. And at least for one glorious Sunday morning, the church known as Emanuel convinced the world that it truly believed in and lived up to the meaning of its name--"God with us."